About Us
About Victoria Miniatures;
Our website is changing. Have a look (and buy something) on our new victoriaminiatures.com website.
Victoria Miniatures is an Australian based company producing characterful, high quality, collectible miniatures for hobbyists, collectors, gamers or any one who takes a fancy to them.
Victoria Miniatures, unless otherwise indicated are 30mm heroic scale, sculpted by Victoria Lamb, cast in metal, and supplied unpainted and unassembled.
These miniatures are not toys. Some skill is required to assemble multi part miniatures. They are not recommended for children under 12. Note that metal miniatures have a very small lead content, and must not be chewed or swallowed.
Breaking news:
Our website is changing. Have a look (and buy something) on our new victoriaminiatures.com website.
About Victoria Lamb;
I have been passionately involved in the miniature hobby for nearly 25 years. I first stumbled across a box of second hand plastic Space Marines (RTB01, for the vets out there) in my local Adelaide hobby shop in the late 80s, I had no idea what they were, but took them home and enjoyed painting them, from there I was hooked.
At Games Day Australia 2001 I became the first female hobbyist in the world to win the Slayer Sword with my diorama "The Rescue of Sister Joan". This piece became well known as one of the first examples in the gaming Miniature hobby to use the painting technique now commonly known as Object Source Lighting (OSL).
I spent many years successfully competing in Golden Demon and other painting competitions. My miniatures were always characteristically influenced by my professional work as a designer of sets and costumes for the theatre. The greatest joy for me was to bring the same drama, humour, character and , yes, dramatic lighting to my hobby.
In recent years I have branched beyond painting and converting miniatures to establishing my own range 'Victoria Miniatures'. It has been enormously rewarding to be able create the miniatures I always wished I could buy. I hope that the versatility of the Victoria Miniatures range will encourage creativity in other hobbyists too.
I am very excited about the future of 'Victoria Miniatures' the range is ever expanding and is now on the brink or bringing in the wonderful contributions or other talented sculptors, painters, mould makers and artists from around the world.
Thanks for reading and happy hobbying.
Victoria Lamb.

To see more of Victoria's miniature and theatre work, visit her portfolio at http://www.victorialamb.com/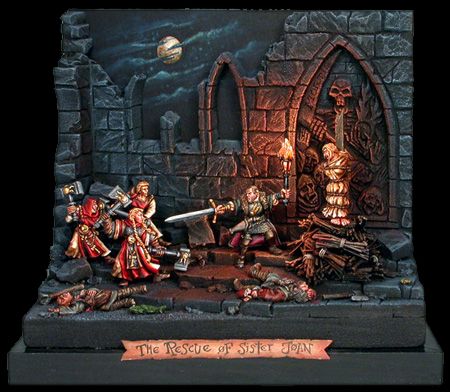 ---